What are suölo seasonings?
Suölo® is a range of gourmet seasonings based on sea salt and naturally occurring mineral salts reflecting the Nordic health philosophy of helping the body find its natural balance.

Global concern about the over consumption of salt is driving the use of alternatives that have MORE FLAVOUR and LESS SALT.

Home-cooking has also become a major trend in the UK and Europe coming out of COVID-19 and new products that provide great taste with well-being will be a focus for consumers who not only want to satisfy their palate but who also want to improve their health.

Increasingly consumers are looking for simple, but tasty solutions to reduce salt intake and they recognise it's now time for change.
What do you get with suölo® seasonings?
A unique range of seasonings that stand out from anything else currently on your shelves.

An up-market range of seasonings that shows your customer that you understand and acknowledge their desire for innovative cooking at home with exciting combinations of ingredients, but also their wish to stay healthy.
Restaurant quality seasonings that have a proven track record in professional kitchens and front- of- house for Food Service with the benefit of great taste with 50% less salt.

Promotional support through direct consumer marketing based on the company's status and notable experience around salt reduction.

Attractive product margins.
Suölo products are available as 175ml shakers and 40g sachets for retail or 1.5kg tubs for Food Service.
Register your details to find our more about food service and retail opportunities with Suölo®. Suölo® products are available with 50% less salt for the home cook and for the discerning chef. The Suölo® range provides seasoning for all types of home-cooked dishes and contain different natural spices and even seaweed.
Taste tests indicate a high level of consumer acceptance and preference for classic Suölo® over other reduced salt alternatives and consumers are unable to tell the difference between classic Suölo® Reduced Sodium Sea Salt and regular salt (Consumer Trials, USA, Finland and UK 2009-2017).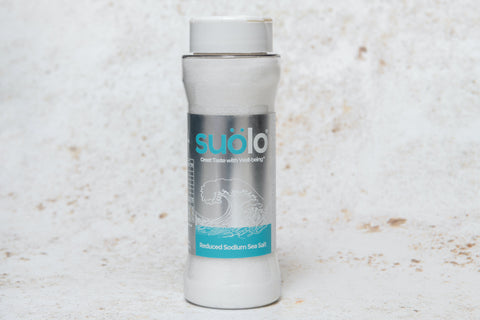 Reduced Sodium Sea Salt – a classic seasoning for everyday use and front-of-house seasoning.
Reduced Sodium Sea Salt and Black Pepper – a classic, chef-styled seasoning that lifts any dish and a popular combination used by chefs for back- of-house seasoning.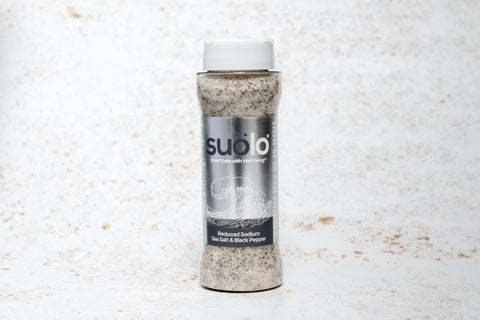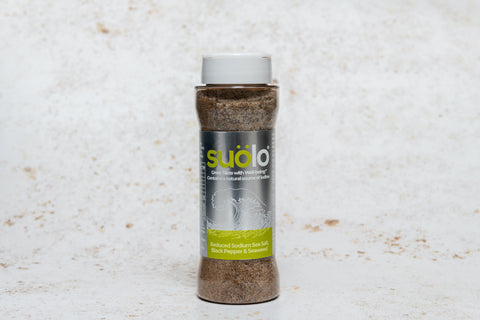 Reduced Sodium Sea Salt, Black Pepper and Hebridean Seaweed – a rich, savoury umami seasoning that contains a natural source of iodine.
Reduced Sodium Sea Salt, Black Pepper and Chilli Pepper – for those who like some heat and spice from their food.